Josefa Trimmel-Tscharmann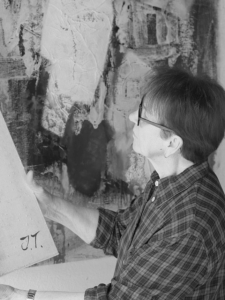 Josefa Trimmel-Tscharmann is a native Austrian.
Already in her youth, she discovered her love for visual arts. After training at the Fashion School (Wiener Neustadt), the Academy of Fine Arts (Vienna) and the renown Fashion School Michelbeuern she studied both the ancient masters and contemporary art in England and Switzerland.
As a student of Professor Werner Otte and Werner Schroffner, she was able to further perfect her watercolor painting.
The influences of Ferry Zotter, Da Huang Zhou and Jacobo Borges at the summer academies in Salzburg finally encouraged Josefa, after a naturalistic period, to develop into abstract painting.
Josefa finds inspiration for her work in music, lyric poetry and her personal environment. For her, painting is a process of constant change and development.
Since the end of the eighties Josefa's pictures have been shown in national and international single and collective exhibitions.